Faculty of Computer and Mathematical Sciences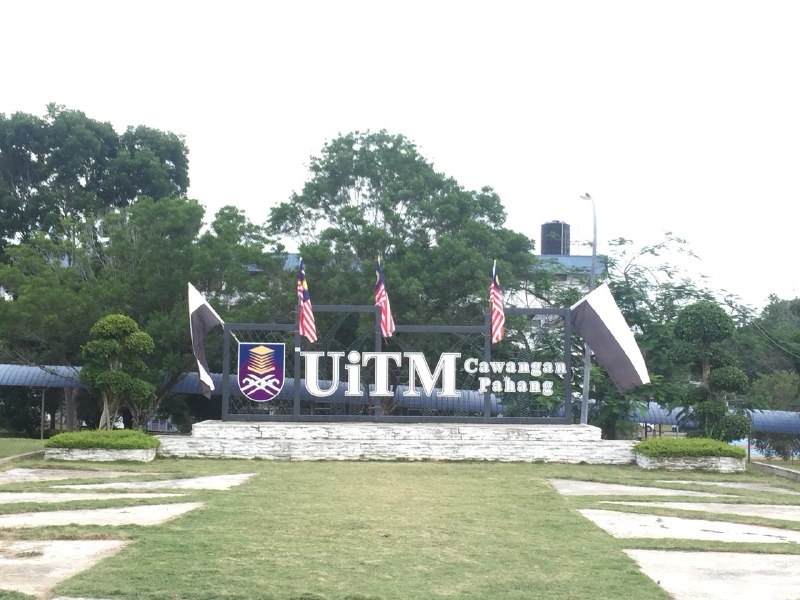 FAKULTI SAINS KOMPUTER & MATEMATIK
Fakulti ini pada asalnya bermula sebagai School of Actuarial Science, Statistics, Matematik, Econometries and Cybernetics, dalam 1966 di Institut Teknologi MARA (ITM) Jalan kampus Othman, Petaling Jaya. Pelajar dengan pencapaian terbaik di dalam matapelajaran Matematik telah ditawarkan untuk mengambil salah satu daripada dua program yang ditawarkan sebagai persediaan untuk peperiksaan oleh Institute of Statisticians dan Institute of Actuaries, United Kingdom.
Dalam 1969, fakulti mengambil satu langkah berani dalam memperkenalkan Diploma Sains Komputer, satu program dalaman. Kemudian, ia berpindah ke kampus baru dan lebih besar di Shah Alam dalam 1970. Selepas tahun 1974, ia dinamakan semula sebagai School of Mathematical Sciences and Computing. Program-program luar beransur-ansur digantikan oleh program diploma dalaman. Pelajar berpeluang bagi melanjutkan kajian mereka apabila Advanced Diploma in Statistics telah diperkenalkan dalam 1980 , dan juga penawaran satu ijazah bersama memprogramkan dengan Universiti Kebangsaan Malaysia dalam 1985.
Dengan penawaran kursus berkenaan, graduat akan dianugerahkan Ijazah Sarjana Muda Sains Komputer (Kepujian) (ITM-UKM). Seiring dengan pembangunan negara dan permintaan yang tingi terhadap graduan Sains Komputer, beberapa cawangan UiTM telah menawarkan program ini termasuk Pahang, Perak dan Terengganu. Ini diikuti oleh Sarawak dan Negeri Sembilan.
Kampus Raub merupakan kampus terbaru bagi FSKM. Terdapat dua program yang dijalankan di sini iaitu, program Diploma Sains Komputer (CS110) dan Diploma Statistik (CS111).
KOORDINATOR AKADEMIK
Mazura Binti Mokhtar @ Mother
Koordinator Kursus Matematik & Statistik
UiTM Cawangan Pahang
Kampus Raub
E-mail : mazura_mokhtar@uitm.edu.myPhone 
No : 09-351 5381

 
En. Zulazeze bin Tusiran @ Sahri
Koordinator Kursus Sains Komputer
UiTM Cawangan Pahang
Kampus Raub
E-mail : azeze@uitm.edu.my
Phone No : 09-351 5402
Mempertingkatkan keilmuan, kepakaran dan profesionalisme melalui ekosistem pendidikan dan penyelidikan berinovasi serta penglibatan khidmat masyarakat yang berlandaskan nilai-nilai murni dan etika keprofesionalan.
Mengungguli kesarjanaan dan kecemerlangan akademik berintensifkan penyelidikan serta melahirkan teknousahawan Komputeran dan Matematik.
CS110 - Diploma In Computer Science
Dunia pengkomputeran hari ini menuntut pengaturcara bukan sahaja cekap dalam pembangunan perisian tetapi pada masa yang sama memiliki satu asas kuat dalam menyelesaikan masalah. Program Diploma Sains Komputer ini memberi persediaan kepada pelajar-pelajar untuk menggalas tugas dalam bidang Sains Komputer bermula dari pengabstrakan sehingga pelaksanaan dan penggunaan. Antara kandungan kurikulum kursus ini adalah seperti pengkomputeran asas, pengaturcaraan, sistem pengendalian, sistem rangkaian, pangkalan data, Matematik dan  Bahasa Inggeris.
Dengan penambahan beberapa aktiviti kurikulum yang lain, diharap dapat membentuk minda dan  sahsiah pelajar yang tinggi supaya menjadi individu yang kuat daya ketahanan dan serba boleh di alam pekerjaan. Selain daripada itu, sesetengah pelajar juga akan ditempatkan di pelbagai syarikat untuk mereka merasai pengalaman persekitaran pekerjaan sebenar.
Graduan program ini boleh mencari pekerjaan di dalam pembangunan perisian, reka bentuk web, mengaturcara web, penyenggaraan komputer , dan mana-mana bidang berkaitan
Calon mesti memenuhi KEPERLUAN UMUM UNIVERSITI dan:
Lulus SPM atau setara dengan syarat-syarat (diiktiraf oleh Kerajaan Malaysia) dengan kredit dalam mata pelajaran berikut:
Bahasa Melayu
Matematik
Dua (2) mata pelajaran termasuk Matematik Tambahan / Fizik / Kimia / Biologi / Sains Tambahan / Sains /  Teknologi Maklumat dan Komunikasi / Dasar Pengatucaraan/ Pengatucaraan and Pembangunan Perisian
Bahasa Inggeris 
DAN
Lulus dalam mata pelajaran Sejarah (* untuk ambilan SPM2013 dan ke atas sahaja)
ATAU
Lulus Program Pra Diploma Science (PD008) dari UiTM.
ATAU
Mempuunyai Sijil dalam Pengatucaraan Komputer dari UiTM atau Sijil dalam Teknologi Maklumat dari UiTM dengan PNGK sekurang-kurang 2.70 dan SATU (1) tahun pengalaman bekerja di dalam bidang berikatan, dan lulus Bahasa Inggeris di peringkat SPM.
 *Untuk ambilan Diploma Sains Komputer (CS110) sahaja.
Pemegang Diploma Sains Komputer amat diperlukan dalam kedua-dua sektor awam dan swasta. Terdapat banyak peluang pekerjaan boleh didapati untuk siswazah program ini di mana pelbagai organisasi memerlukan pekerja dalam bidang IT. Antara pekerjaan yang ditawarkan adalah pereka bentuk web, pengaturcara, technical writers, networking and mobile computing experts, sistem analis dan jawatan-jawatan berkaitan lain. Pemegang diploma boleh juga melanjutkan pengajian mereka di peringkat lebih tinggi.
Semester 1

Fundamentals of Islam, Co-Curriculum I, Integrated Language Skills: Listening, Fundamentals of Computer Problem Solving, Pre Calculus, Accounting I, Fundamentals of Algorithm Development


Semester 2
Islamic Thought and Civilization, Co-Curriculum II, Integrated Language Skills: Reading, Computer Organization, Structured Programming, Calculus I, Principles of Economics
Semester 3
Science and Technology in Islam , Co-Curriculum III, Integrated Language Skills: Writing, Object Oriented Programming, Introduction to Database Management System, Discrete Mathematics, Fundamental of Management
Semester 4
Fundamentals of Entrepreneurship, Fundamentals of Data Structures, Information System Development, Practical Approach of Operating Systems, Introduction to Probability and Statistics, Elective 1
Semester 5


Web Application Development , Introduction to Data Communication and Networking, Linear Algebra 1, Elective 2, Elective 3, Practical Training


Elektif
Digital Electronic, Interactive Multimedia, Visual Programming, Commercial Programming, Programming Paradigm, Introduction to Computer Security.
CS111 -Diploma In Statistics
The programme has the following objectives:
To produce graduates who are able to apply fundamental statistical knowledge in accordance to ethical standards and practices for life-long learning.
To produce graduates who are skillful in solving real-life problem using statistical approach and able to communicate research findings.
To produce graduates with effective interpersonal skills and cooperative team members with good leadership qualities.
To produce graduates who are sufficient entrepreneurship knowledge as well as creative and innovative.
Candidates must fulfill the UNIVERSITY GENERAL REQUIREMENTS and:
1. Passed SPM or equivalent qualifications (recognized by the Government of Malaysia) with credits in the following subjects:
Mathematics
Additional Mathematics
Physics / Chemistry / Biology / Additional Science /Science
English
AND
a pass in History (applicable for SPM 2013 onwards)
OR
2. Passed Pre-Diploma Science (PD008) from UiTM
Diploma holders in Statistics can be employed as Junior Statistical Officers, Research Assistants, Junior Bank Officers, Junior Market Research Executives, Junior Quality Control Executives and Junior Executive Officers in public and private sectors.
Semester 1 Year 1
Basic Statistics, Calculus I, Fundamentals of Islam, Integrated Language Skills: Listening, Co-Curriculum I, Principles of Economics, Introduction to Financial Accounting and Reporting
Semester 2 Year 1
Probability and Statistics, Calculus II, Fundamentals of Finance, Islamic Thought & Civilization, Integrated Language Skills II: Reading, Co-Curriculum II
Semester 3 Year 2
Statistical Methods, Linear Algebra I, Fundamentals of Research, Introduction to Operation Research, Science & Technology in Islam, Integrated Language Skills III: Writing, Co-Curriculum III, *Elective
Semester 4 Year 2
Mathematical Logic and Proving Techniques, Fundamentals of Computer Problem Solving, Introduction to Database Management System, Fundamentals of Regression Analysis, Fundamentals of Research, Introduction to Time Series Forecasting, *Elective
Semester 5 Year 3
Design and Analysis of Experiments, Fundamentals of Entrepreneurship, Statistical Software, *Elective
*Electives
Tools for Quality Improvement, Interactive Multimedia, Digital Electronics, An Introduction to Computer Security, Business Communication, Financial Mathematics I