PERPUSTAKAAN AL-BUKHARI
Perpustakaan UiTM Cawangan Pahang, mula ditubuhkan di Teluk Sisek, Kuantan, Pahang Darul Makmur pada tahun 1985 dan telah berpindah ke kampus tetapnya di Bandar Jengka, Pahang pada tahun 1993. Pada tahun tersebut, nama perpustakaan mula dikenali sebagai Perpustakaan Al-Bukhari.Pada awal pembukaan perpustakaan tahun 1985, perpustakaan ITM Pahang ketika itu hanya mempunyai 4 orang staf sahaja dan diketuai oleh En. Wan Shuib Wan Bain. Seiring perkembangan UiTM, kini Perpustakaan Al-Bukhari, UiTM Cawangan Pahang telah mempunyai seramai 27 orang staf yang diketuai oleh Timbalan Ketua Pustakawan, Puan Rosnita Ja'afar.
Website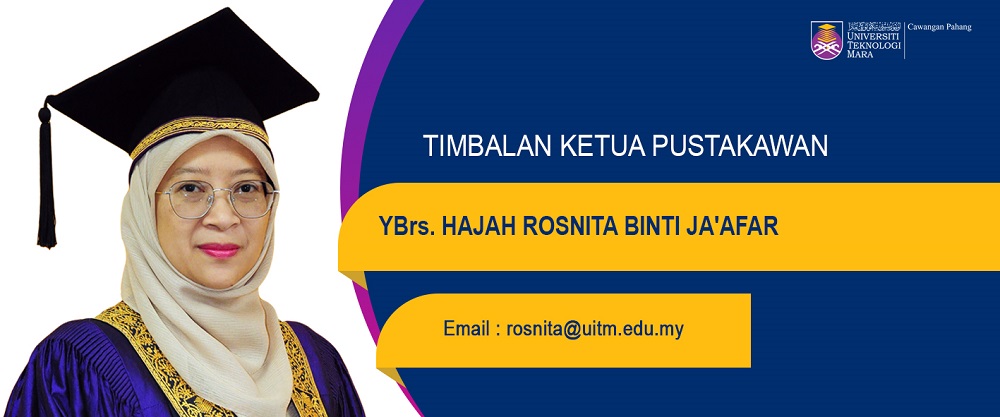 To Lead the development of agile, profesional Bumiputeras through state-of- the-art currucula and impactful research
To establish UiTM as a Globally Renowned University of Science, Technoligy, Hmanuties and Entrepreneurship
Every individual has the ability y\to attain excellence through the tranfer of knowlwdge and assimilation of moral values so as to become profesional graduates capable of developing
To enhance the knowledge and expertise of Bumiputeras in all fields of study through professional programmes, research work and community service based on moral values and professional ethics.
To empower the delivery of UiTM's library services as a center of information excellence that always remained relevant, referred and respected.
To serve a comprehensive, up to date and relevance knowledge resources in various physically and virtually format.
To provide a conducive environment and facilities for teaching, learning and research matters.
To develop a latest information technology and communication facilities based on customer needs.
To strengthen human capital through Budaya PERDANA for PUiTM communities.
To enrich relation and cooperation with external organisation in industrial network.
PTAR is committed in providing world-class environment, services and resources to enhance the study, research and teaching experiences.
Our client charter reflects our commitment to provide world-class services and focuses on SIX main areas.
To deliver user-friendly services to PTAR users
To provide weekly updates to PTAR users of our New Arrival Collections
To provide response within THREE (3) weeks upon date of application for Inter-Library loan request
To respond within ONE (1) working day on Information Skill Class
To provide 24/7 up time and access to PTAR Portal and electronic resources
To provide access within THREE (3) working days upon date of application for reference archive materials
UNIT - UNIT DI BAWAH PERPUSTAKAAN AL-BUKHARI
Unit Perkhidmatan Pelanggan
Unit Pentadbiran Organisasi
Unit Sistem Maklumat Perpustakaan
Unit Kewangan dan Fasiliti
Unit Penyelidikan Pembelajaran & Rujukan