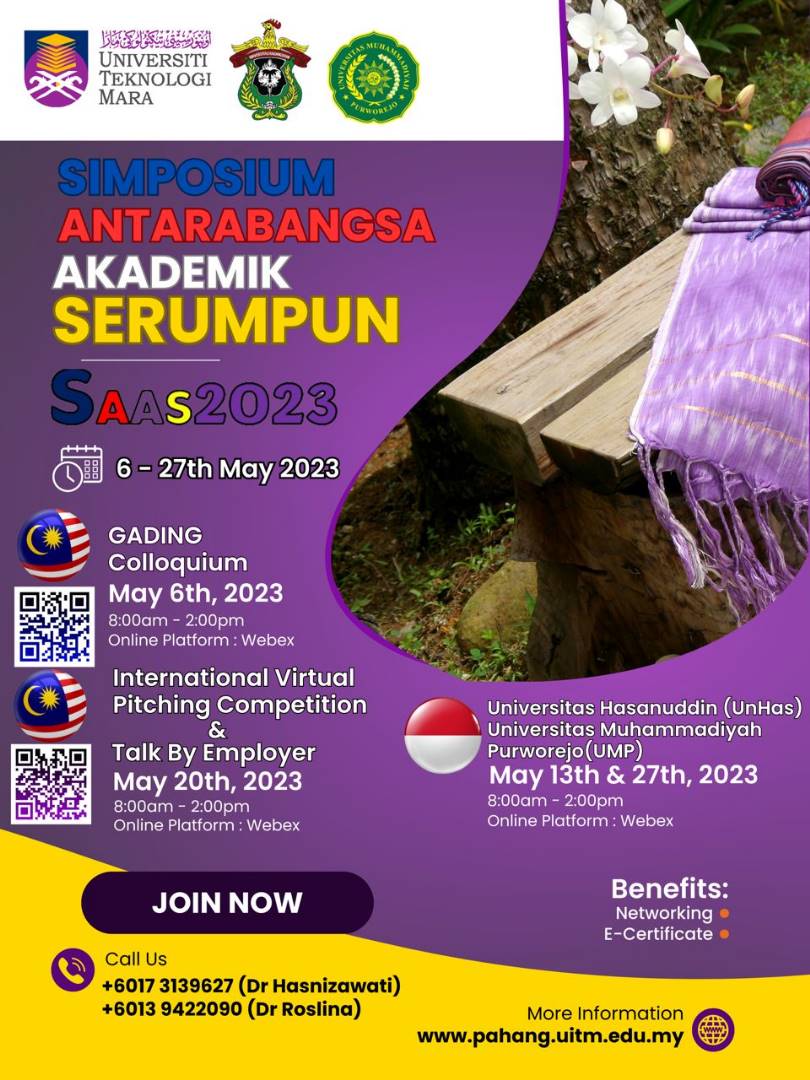 Y.Bhg. Emeritus Prof. Datuk/Prof./Dato'/Datin/Dr./Sir/Madam/Ms


Universiti Teknologi MARA (UiTM) Pahang Branch (Malaysia) will organize the SIMPOSIUM ANTARABANGSA AKADEMIK SERUMPUN (SAAS2023) in collaboration with Universitas Hasanuddin (Indonesia) & Universitas Muhammadiyah Purworejo (Indonesia).


We cordially invite you to participate in the Simposium Antarabangsa Akademik Serumpun (SAAS2023). The event brings the GADING Colloquium, International Virtual Pitching Competition & Talk by Employer.


This joint symposium offers virtual modes to give participants options and enhance event flexibility. It will be held online from 6 to 27th May 2023. SAAS2023 aims to gather academicians, researchers, and students from related fields to meet and share ideas, knowledge, and innovations. The joint forces of educational institutions from Malaysia and Indonesia provide a platform for academicians, researchers, and students from diversified sectors to build various collaborations at the international level.

Contact Person:
Dr. Hasnizawati Hashim: +6017 3139627
Dr. Roslina Abdul Aziz: +60139422090


More information:
www.pahang.uitm.edu.my


Let's join us now.
See you soon!